Robot, from science fiction to coworkers
Receptionists, teachers or caregivers; So they work in Japan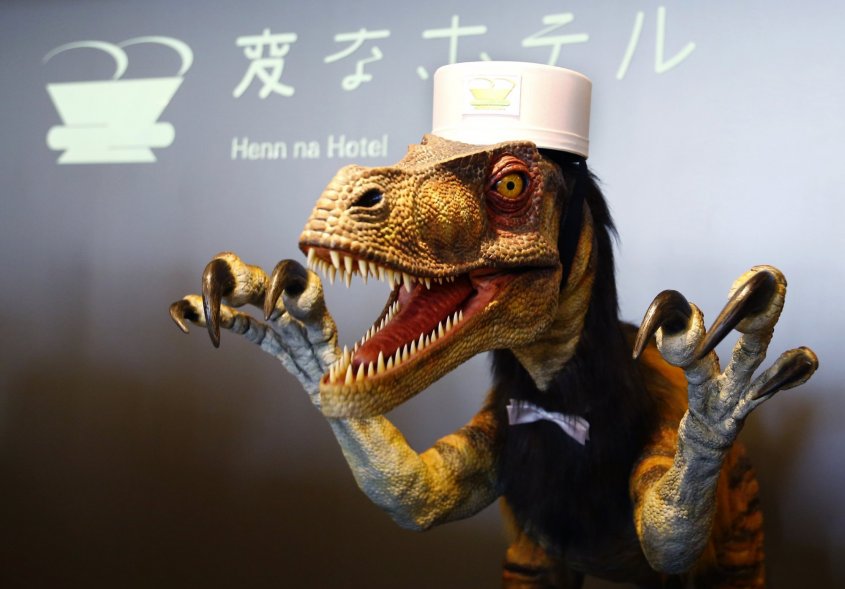 Robot receptionists, automatons attending older people or androids, far from competing with humans for a job can become the solution for Japan, a country with more jobs than people willing to occupy them.
A few kilometers away from the center of Tokyo, next to the Disneyland theme park, two polyglot dinosaurs welcome guests to the "Henn-na Hotel" (Japanese hotel), with no humans in sight.
In each of the 100 rooms, the small "Tapia" – a desktop robot – is put at the disposal of its guests: a simple request, pronounced in English or Japanese, causes it to turn on and off the light and television or Give the weather forecast.
A hotel of these characteristics – whose price per double room is between 14,000 yen (113 euros / 127 dollars) and 30,000 (242/273) – manages to reduce the number of employees needed in half, say its people in charge.
A World Economic Forum study predicted in 2016 that normalizing the use of robots and artificial intelligence in the labor market would lead to the loss of more than 5 million jobs in the 15 most developed countries in the world by 2020.
In particular, robots and artificial intelligence systems will be able to play half the jobs available in Japan by 2030, according to another report released in late 2015 by Japan-based Nomura Research Institute.
"This would only happen in certain economic and industrial sectors," comments Tim Hornyak of Canada, author of "Loving the Machine: The Art and Science of Japanese Robots".
Certain jobs based on data analysis or systematic operations could be performed more easily by machines, such as receptionists, factory operators or security guards.
Japanese insurance company Fukoku Mutual Life Insurance announced a few months ago that it would lay off 34 employees and replace them with an artificial intelligence program, which will automatically calculate indemnities for policyholders and could improve the company's productivity by 30%.
Kaname Hayashi, founder of Japanese robotic company Groove X, however, argues that there is no reason to worry about robots botching "jobs" to people.
"Humans have always advanced in civilization through the use of tools, robots are tools, it is natural for humans to exploit robots to the fullest in the future," adds Pepper, the first automaton marketed in Series capable of interpreting human emotions.
"If people do not have to work in a factory, where we could use robots and technology, they can focus on other types of jobs," said Hiroshi Ishiguro, a Japanese professor at the University of Osaka.
In fact, the entry of robots into the labor market could solve the shortage of labor in Japan: the latest data from the Japanese government showed a figure of 148 available jobs for every 100 job seekers.
In total, labor has shrunk by almost 2 million since the late 1990s, in part because of the rapid aging of its population, which threatens to hamper the growth of the third world economy.
"I think the robots have and will continue to have an impact on the availability of labor in Japan, though not enough to cope with population decline," Hornyak regrets.
In any case, it seems clear that the robots will stop being protagonists of the science fiction to happen to become office companions.
Ishiguro tells Efe that, although there are already robots in showcases, plays or movies (such as the recent "Sayonara", "Goodbye" in Japanese), in the coming years they will offer assistance in public places, shopping centers, stations and schools , And even as teachers.
"Thanks to robots, our society and our lives will improve," concludes this researcher known for his models of humanoid robots, including a replica itself.